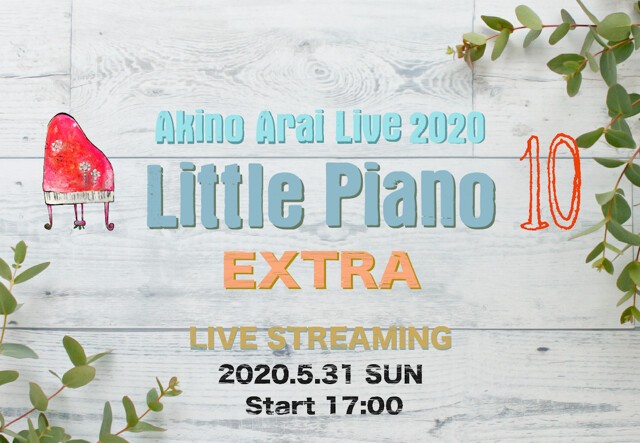 date_range 05.31 (Sun) 17:00 ⇨ 06.03 (Wed) 19:00
grade Pop
label

新居昭乃
ONLINE SHOW
We are very pleased to announce that the postponed event on May 31st, 2020, Akino Arai Acoustic Live Tour 2020 "Little Piano vol.10" in TOKYO FM HALL will be live streaming on the internet!!
You can request a song you would like to hear from Akino Arai during the live streaming event!
Please leave your message in the comments and let's have fun together!
Please comment on Twitter with the hashtag #LP10_EXTRA during the streaming live! It will be displayed below the screen as a live chat function of ZAIKO.
You wouldn't want to miss this opportunity!

【Little Piano vol.10 -EXTRA-】
・Date: 2020/May/31(Sun)17:00 – 19:00(Estimated)
・On Sale: 2020/May/21(Thu)12:00 – June/3(Wed)17:00
・Streaming Period: 2020/May/31(Sun)17:00 – June/3(Wed)19:00
・Ticket: ¥2,500
・Payment Method: Credit Card
        Convenience Stores
        PayPal
        WeChat Pay
        Alipay

You can watch the live streaming as much as you like with the purchase of your ticket.
Live streaming URL will be only available in your ZAIKO account.
You cannot share the URL to your friends or any SNS as it is only valid in your ZAIKO account.
If you start watching in the middle of the show, you only can watch from that point and you cannot rewind and play it back during a live stream.
After the live stream, ticket holders will be able to watch it again as an archive for 3 days (until 19:00 on Wednesday, June 3).
When you buy your ticket, or during the live stream broadcast, you can donate (Social Tipping) to the artist as your support and kindness.