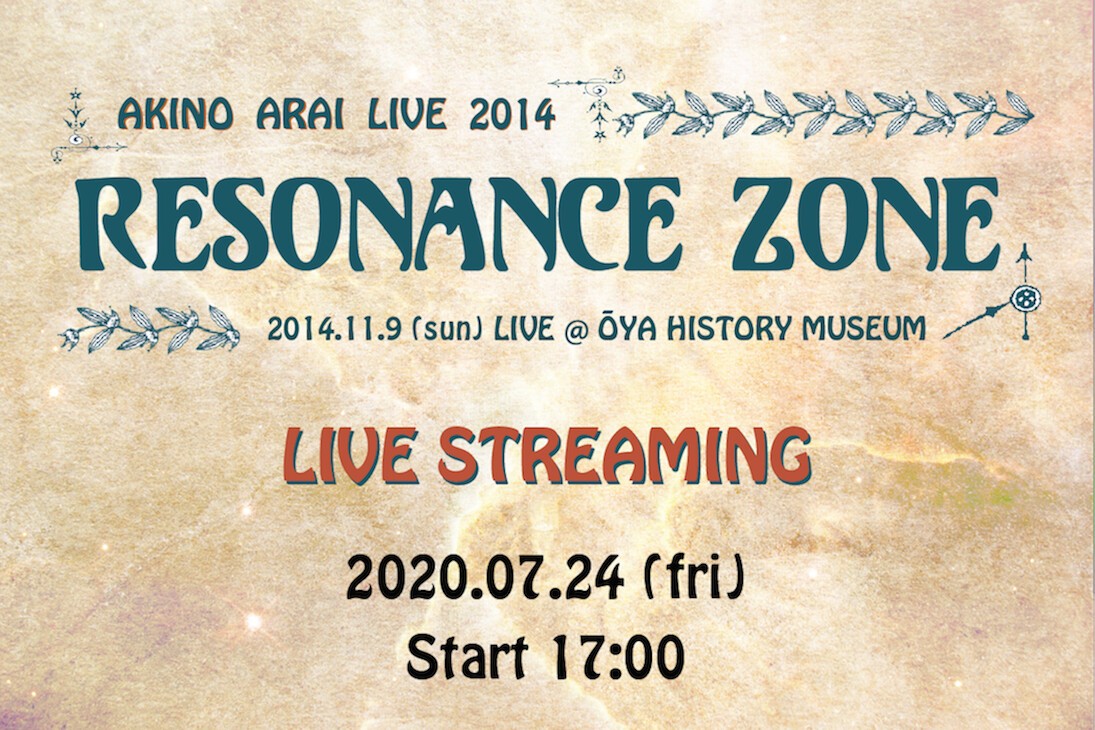 date_range 07.24 (Fri) 17:00 ⇨ 07.27 (Mon) 19:00
grade Pop
label

新居昭乃
ONLINE SHOW
"Akino Arai's acoustic LIVE TOUR 2020 "Little Piano vol.10" on July 24 (Friday) at the TFM Hall was postponed due to the influence of the new coronavirus BUT, the event "Resonance Zone", which was held at the Oya Museum in Utsunomiya City in November 9, 2014 will be back on the internet!!

Please note it will not be an uncut version. Thank you for your understanding.

We are still working through the many requirements of making the video for the "Resonance Zone" event.
The fantastic live performance of beautiful acoustics in the stone quarry is revived here to create an enchanting image projection on the entire wall.

Please comment on Twitter with the hashtag #ResonanceZone_2020 during the live streaming show!
Akino Arai might reply in real time…!?
The comment field will show up 30 mins before the streaming and close 30 mins after the streaming.
Please let us hear your thoughts and reactions, and feel free to comment anything you would like to tell Ms. Arai!

【Resonance Zone】
・Date: 2020/July/24(Fri)17:00 – 19:00(Estimated)
・Streaming Period: 2020/July/24(Fri)17:00 – July/27(Mon)19:00
・On Sale: 2020/June/21(Sun)18:00 – July/27(Mon)17:00
・Ticket: ¥2,500
・Payment Method: Credit Card
        Convenience Stores
        PayPal
        WeChat Pay
        Alipay

You must have your ZAIKO account to watch the streaming.
You can watch the live streaming as much as you like with the purchase of your ticket.
Live streaming URL will be only available in your ZAIKO account.
You cannot share the URL to your friends or any SNS as it is only valid in your ZAIKO account.
When you buy your ticket, or during the live stream broadcast, you can donate (Social Tipping) to the artist as your support and kindness.